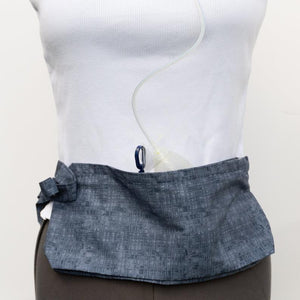 This post-surgery drain holder is designed for patients after mastectomy looking to get back to normal life even with drains attached.
Designed by a breast cancer survivor of multiple surgeries, you can be sure that this drain holder has been made with your every need in mind:
BENEFITS:
- holds up to 4 drains: the unique construction of 4 stretchable pockets prevents the drain bulbs from movement.  Soft cotton fabric - perfect under clothing - discreetly holds drains.
 - adjustable size:  with no metal or hook and loop closures, you can adjust the size by tying the ties (which can be trimmed, as well)
DON'T JUST TAKE OUR WORD FOR IT

"Incredibly fast shipping! A very useful aid in recovery. Found it most helpful a little bit later on in recovery vs. soon after surgery. Still, an incredibly helpful tool to have available."